Our services cover all the Lebanese territory and extend to Syria, Iraq and Turkey.
With our coverage, we offer a full range of services:
Deluxe Taxi Services, just call and enjoy a courteous, smooth and secure ride with experienced well trained drivers.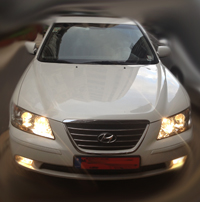 Car Renting, with or without driver, from our top new models to satisfy your taste in driving.
Group Tours, from 7 passengers vans to the full sized buses with excellent unbeatable group rates.
Package Delivery, from small enveloppes to big packages, we make sure you delivery is on time.
Ask fo our Business Delivery Account.
Without forgetting our friends the journalists, photographers, television reporters and video crews.
With more then 30 years of experience with all the known news agencies and independants, we are able to offer the best secure services available in the country.
So before you make any decision during your next visit to Lebanon, make sure to contact us and reserve the service you need and enjoy the best rates and comfortable rides, after all your security is always in our mind.